Bumper Scuffs/ Cracks
With our busy roads & car parks, bumper damage can sadly happen all too often, this in turn not only effects the appearance of your car but it's value too. With our vast experience in car body repairs, bumper scuffs & scrapes can be repaired with relative ease & using the latest plastic welding tools & techniques even broken bumpers can often be repaired too avoiding costly replacement parts.
Scratches and Scrapes
Using modern specialist techniques along side industry standard style repairs (used in dealer bodyshops), we're able to save money achieving invisible repairs.
At West Silloth Motors we pride ourself in offering the very best service from our free on the spot estimates & friendly advice to our repairs & add to this our peace of mind guarantee, we're sure you'll enjoy our refreshing approach to car repairs.
Light Accident Damage
There are few things more stressful than damage to your car. Our advisors are insurance trained to assure you of the best advice at all times & with our award winning repair specialists, you can be confident of quality finish too.
We can undertake insurance repairs efficiently & quickly minimising the time you're without your car.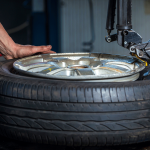 Alloy Wheel Repairs
A gleaming set of wheels compliments the look of any car and with modern low profile tyres offering little protection, it's understandably easy to mark or scratch a wheel. Most scuffs, scratches & scrapes to your alloy wheels can be repaired same day & as most alloy wheels are a painted type finish, we apply the very same skills, that we use to repair your cars bodywork, to restore the look of you cars wheels too.